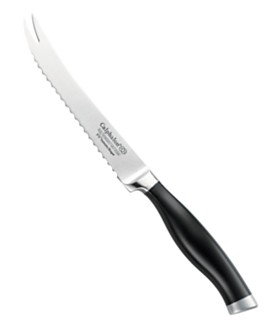 This is the Calphalon tomato/bagel knife. According to the Calphalon website, it features
Full tang design, providing better balance and superior strength
One-piece forging of blade, bolster, and tang for long-lasting durability
Ergonomic grip handle uniquely contoured for comfort
High-carbon German steel from tip to tang; sharpens more easily than ordinary stainless and maintains its edge longer
Individual balance for efficiency and comfort
Full taper from cutting edge to spine and from tip to heel for superior strength and greater cutting versatility
Hand-ground satin finish, with a perfect, equal edge
Note the two (TWO) sharp points, making this an excellent tool for piercing the tough skins of tomatoes and bagels.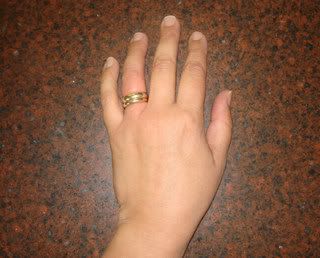 This is the hand.
Custom-made with superior design, the hand can perform myriad actions with grace, ease, and perfect balance. The hand can slice, dice, chop, cut, spread, type, wave, caress, flip, rap, knock, pat, squeeze, tug, tickle, slap, wash, rinse, scrub, dry, dust, point, push, beckon, jab, and just about anything else you can think of.
Its design includes bone, marrow, sinew, blood, tendon, muscle, and several layers of skin. The skin on the hand is a tough, flexible, soft, breathable miracle. It is not as tough, however, as the skin of a tomato or the crust of a bagel.
When the hand is thrust onto the Calphalon tomato/bagel knife, in such a manner that both German-steel tips of the knife pierce the skin at the second joint of the index finger, penetrating into the flesh, it hurts. It really hurts. It really really REALLY hurts.
It also generates a surprising amount of blood.
Consumer review of the Calphalon tomato/bagel knife
Design, balance, and strength
♦♦♦♦
Forging of blade, bolster, and tang
♦♦♦♦
Comfort of ergonomic grip handle
♦♦♦♦
Ease of sharpening
♦♦♦
Maintaining of edge
♦♦♦♦♦
Efficiency
♦♦♦♦♦
Strength and cutting versatility
♦♦♦♦♦
Hand-ground perfect, equal edge
♦♦♦♦
Recommended for use on bagels or tomatoes?
Yes
Recommended for use on hands or fingers?
No